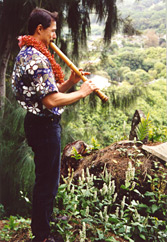 Pilgrimage for Compassion 2012
with GRAND MASTER RILEY LEE and TAIKO KAUA'I

SUNDAY, AUGUST 12, 2012
3:00PM - 5:00PM
Gates Open 1:30PM

LAWAI INTERNATIONAL CENTER




On Sunday, August 12, from 3:00 to 5:00pm, world-renowned shakuhachi (Japanese flute) Grand Master Riley Lee will perform at Lawai International Center's Tenth Annual Pilgrimage for Compassion at the 88 shrines in Lawai Valley.

All are invited to walk this ancient pilgrimage and share with those who have a special bond with this site.

Lawai International Center, a non-profit community project, is an archaeological and cultural treasure in a valley that has long been recognized as a healing sanctuary. In 1904 the first generation of Japanese immigrants built 88 shrines replicating an ancient pilgrimage of 88 temples in Shikoku, Japan. Today, it is the only such site existing outside of Japan and one of the oldest Buddhist temple sites in the country. Volunteers are bringing these shrines and this valley back to prominence as an international center for compassion, education and cultural understanding.

Thirty years ago, Grand Master Riley Lee was the first non-Japanese to attain the rank of Grand Master in the shakuhachi tradition and remains one of the few outside of Japan. He has performed extensively throughout the United Sates, Europe and Asia including the Sydney Opera House, Kennedy Center in Washington DC and honored at Princeton University as a Visiting Fellow. Over 50 of his recordings have been released on international labels.

His is traditional training included practicing barefooted in the snow, blowing his flute while standing under a waterfall and in blizzards until icicles form at its end.

Organizers said, "Join us on this meditative pilgrimage on this memorable day in a valley that has comforted and healed many generations of islanders. Ancient shakuhachi (Japanese flute) melodies performed by Grand Master Riley Lee will accompany each step of our journey".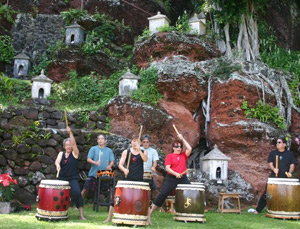 A rare hula appearance from the children of Ni'ihau and pulsating drums by members of Taiko Kaua'i open the event.

Wear comfortable shoes for this hillside walk, bring an umbrella and if possible, please car pool.

Donations will be accepted with gratitude.

There will be a bake sale, silent auction, bonsai exhibit, ikebana and mochi pounding demonstrations. Please attend early due to parking, gates open at 1:30pm with booths and exhibits open and the program starts at 3:00pm.

For more information call 639-4300 or email LM@hawaii.rr.com



To the top of the page





©2012 Lawai International Center, Inc.